Team Members: Drew Blaisdell (10 points), Jace Morrison (10 points), Kassia Wilhelm (5 points), and Nathaniel Williams (5 points)
Task: The team will make changes to the documentation of application functionality, based on team member and example interested person feedback.
Deliverable: A final documentation of functionality.
Milestone dates: 5/22/2014 – 5/30/2014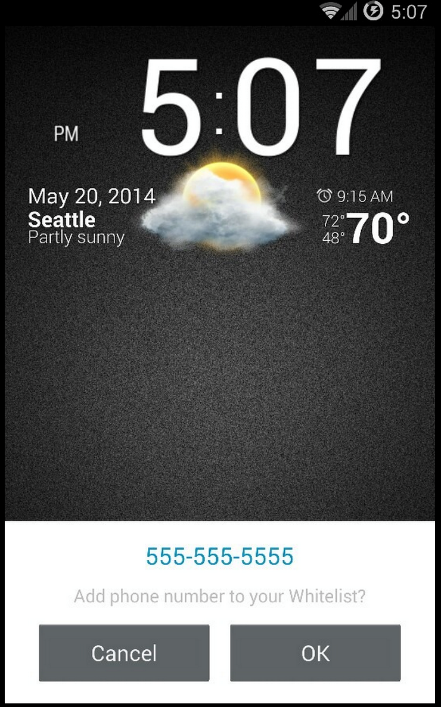 One part of the application is a documentation showing how the product functions. This functionality documentation describes what the application does, including the service overview, the functions of the web application, and the functions of the Android application. The documentation also shows sample images of the application during use.
People interested in the application can read the functionality documentation to learn more about it, and to preferably be more interested in using it. The documentation provides a more detailed overview of the application compared to other promotional material such as the application poster.
During this time, the group (Drew Blaisdell, Jace Morrison, Kassia Wilhelm, Nathaniel Williams) is also working on product branding, which involves how the product is seen by and promoted to the user.
Below is the introduction portion of the documentation:

"Whitelist is a service which allows users to handle incoming phone calls in different ways depending on if the caller is known or unknown. People today should not have to be bothered by calls from solicitors and other unwanted calls. This is especially important to high-profile individuals, who are often forced to change phone numbers if theirs is disclosed. While most smartphones today allow users to block – also known as blacklisting – specific numbers, this solution is clearly inconvenient, suboptimal, and, as a result, rarely used by users.
Instead of blacklisting, Whitelist utilizes the opposite strategy. The service allows specific – or whitelisted – numbers to go straight through to the user's phone and handle unknown numbers in a matter specified by the user. The Whitelist team, along with the users who have tested our service, believe it is a superior solution to blacklisting and can be very valuable to users who are sick of being disturbed by unwanted calls."
The whitelist documentation can be found here:  WhitelistDocumentation